Support: System Software Updates
PSP® System Software Update
System Software Update
Example of a network configuration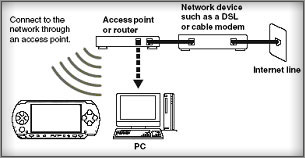 SSID
In the SSID field, enter the SSID for the access point you will use.
You can create a network connection without entering information in the SSID field, but in this case "ANY connection" will be used. You may not be able to connect to the desired access point using "ANY connection", so be sure to complete the SSID field.
Select [Scan] if you do not know the SSID setting for the access point. When you use [Scan], the SSID for the nearest access points will be displayed.
In some cases, more than one access point may be displayed at once. If that happens, you need to specify which access point you would like to use. For details, refer to the instructional manual for the access point.
If the access point in use supports functions such as "SSID stealth" or "SSID non-notification", the SSID may not be displayed properly after using [Scan]. In this case, you must enter the SSID manually. For details, refer to the instructional manual for the access point.
Encryption
Some access points are set with encryption information called a WEP or WPA key. To connect to such an access point, select the type of encryption needed under [WLAN Security Setting].
When [Scan] is used, encryption information for the access point is displayed automatically.
When setting encryption information, you must enter the WEP/WPA key under "Network Settings". Check the WEP/WPA key set in the access point and enter it manually (the WEP/WPA key is not detected or entered automatically).