Support: System Software Updates
PlayStation®3 System Software Update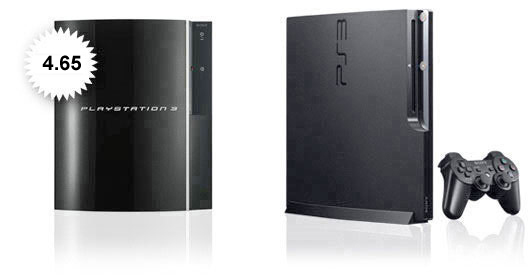 Downloading and installing the PlayStation®3 system software update will update your PS3™ system's operating system to include the latest security patches, settings, features and other items. We encourage you to check this page from time to time for system software updates and to always maintain your system to use the latest version of the system software.

An update to the PS3™ system software was released on December 4, 2013. You can use this update to upgrade your system software to version 4.53.

If your PS3™ system software version is 4.53 (or later), you do not need to perform this update. To check the version of your system software, go to

(Settings) >

(System Settings) > [System Information].


About PlayStation®3 system software update version 4.53 (with 4.50)
PS3™ system software version 4.53 was released on December 4, 2013. Version 4.53 adds or updates the following features.
Main features in system software update version 4.53 (with 4.50)
You can now set the group of players who can see your trophies. You can also specify for each game whether to show trophies.
>See details
The PS3™ system can now perform the following operations when you set [Settings] > [System Settings] > [Automatic Update] to [On], even if you do not subscribe to PlayStation®Plus. When this setting is [On], the PS3™ system will automatically start each day at the specified time, perform these operations, and then turn off.

- Download content items purchased with other devices
- Download the latest system software

Support of Closed Captions function on playing Blu-ray Disc™ videos and DVDs (SCEA UC model only). "Blu-ray Disc™" and "Blu-ray™" are trademarks of the Blu-ray Disc Association.
>See details
Other new or revised features in version 4.53 (with 4.50)
[Closed Captions Settings] has been added under [Settings] > [Video Settings]. Set [Display Closed Captions as Specified by Content] to [Off] to adjust advanced settings for the display method.
"PlayStation®Network" has been renamed "PSNSM".
System stability during use of PlayStation®3 format software and network services has been improved.
Notices
Do not download or install updates using data other than official update data provided online or on disc media by Sony Computer Entertainment, and do not download or install updates by methods other than those described in the system documentation or on this website. If you download or install update data from another source, by another method, or with a PS3™ system that has been altered or modified in any way, the PS3™ system may not operate properly and may not be able to install the official update data. Any of these actions may void the PS3™ system warranty and affect your ability to obtain warranty services and repair services from Sony Computer Entertainment.
This update is for PS3™ systems purchased in North America. DO NOT update your PS3™ system through this website if you purchased your system outside North America. There is no guarantee of proper operation with models sold outside North America.
The system software and system software updates installed on your system are subject to a limited license from Sony Computer Entertainment Inc.Visit http://www.scei.co.jp/ps3-eula for details.
If your PS3™ system software version is 4.53 (or later), you do not need to perform this update. To check the version of your system software, go to > (Settings) > (System Settings) > [System Software] field.
The [Install Other OS] and [Default System] features have been deleted in system software versions 3.21 and later. You will not be able to use [Install Other OS] or [Default System] under (Settings) > (System Settings).See the Consumer Alerts page for more details.
To play some software or use some features, you may first need to update the system software.
Depending on your PS3™ system software version, the screen images and icons that are used on this website may differ from those that appear on your system.
You can update your system software by any of the following methods:
System Update >>Update using the PS3™ system's [System Update] feature.
Update using a PC >> Download update data using a PC and save on storage media* or a USB Mass Storage device. Copy the update data to the PS3™ system's hard disk drive and perform the update.
Update using disc media >> Use the update data included on a game disc to perform the update.
*An appropriate USB adaptor (not included) is required to use storage media with some models of the PS3™ system.