Support: System Software Updates
PlayStation®3 System Software Update
Update using disc media
Required items
PlayStation®3 system
A wireless controller
A USB cable
A game disc that contains update data

Notices

Do not turn off the PS3™ system or remove the storage media or USB device during an update. If an update is cancelled before completion, the system software may become damaged, and the system may require servicing or exchange.
During an update, the power button on the system front and PS button of the controller are inactive.
Update procedure
If a screen prompting you to update is displayed when you start a game, you must perform a system software update to start the game. Select [Yes], and then press the button to start the update. Follow the on-screen instructions to complete the update.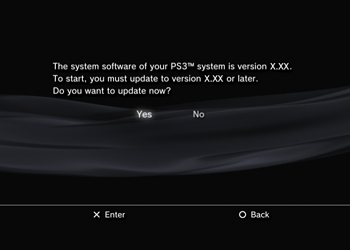 After the update has been completed, go to

(Settings) >

(System Settings) > [System Information].
If the [System Software] field displays the version number of the update, the update was successful.