Live Events Viewer
Download now to watch live events on your PS3™ system.
Live Events Viewer from Sony Entertainment Network delivers the best live events straight to your living room. Watch your favorite sports, music and entertainment events live or on demand.
Watch live or catch up on-demand.
No subscription, no commitments. Pay as you go.
Events are either Pay-Per-View or Free
New events added weekly
Here's how to download the Live Events Viewer app for free to get started:
If you are in the United States, log on to the PlayStation®Store on your PlayStation®3 system.
Visit the Apps section on the store.
Locate and download the Live Events Viewer app and, once complete, find it on the XMB under TV/Video Services.
Launch the app and log on with your PSN℠ ID or Sony Entertainment Network username and password.
Purchase one of the upcoming events and then enjoy watching your favorite event live!
"Sony Entertainment Network logo" and "Sony Entertainment Network" are trademarks of Sony Corporation.The live event content has not been rated and may not be suitable for some viewers. Purchased content may only be used by the purchasing PSN account. You must sign in to PSN to access the content.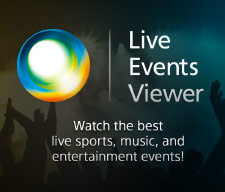 Download Now
App Screens