PlayStation®Vita The Walking Dead Bundle
PlayStation®Vita The Walking Dead Bundle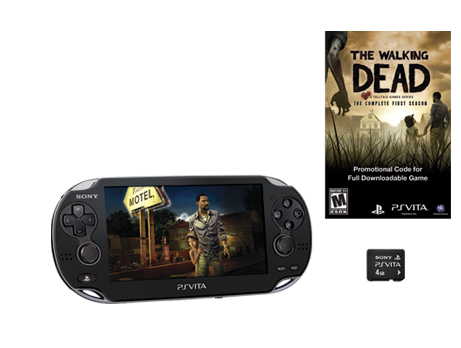 Telltale Games' Award-Winning Series, The Walking Dead, is available now as a Limited Edition PlayStation®Vita Bundle.
Winner of over 90 'Game of the Year' Awards, The Walking Dead Complete First Season includes all 5 episodes of the critically acclaimed series, plus special episode '400 Days'. Play as Lee Everett, who has been given a second chance at life in a world devastated by the undead. Experience events, meet people and visit locations that foreshadow the story of Deputy Sheriff Rick Grimes. Each move matters in this tailored game experience, as your actions, choices and decisions affect how your story plays out across the entire series.
Bundle Includes :
PS Vita 3G/Wi-Fi System
Digital Copy of The Walking Dead
4GB Memory Card
*Limited Edition PS Vita Bundle: available only at participating retailers, while supplies last.

Features :
The Complete First Season: All five award-winning episodes plus special episode '400 Days'
Based on Robert Kirkman's award-winning comic book series
Choice matters: your decisions change the story around you
Enjoy combined touch and console controls created specifically for the PlayStation®Vita system
PlayStation® The Walking Dead