PlayStation®Vita 3G/WiFi Launch Bundle.
PlayStation®Vita 3G/WiFi Launch Bundle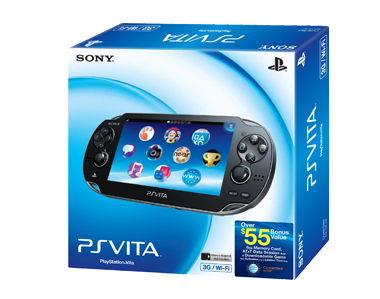 For a limited time at launch complete your portable gaming experience with the PS Vita 3G/Wi-Fi Launch Bundle including an 8GB Memory Card, an AT&T DataConnect Pass plan, and a PSN Game- a bonus $55 in value! Get it while supplies last!*


Includes
PlayStation®Vita 3G/WiFi System + 8GB Memory Card + AT&T DataConnect Pass plan + Free PSN Game*
Bonus $55 Value!
Play with your friends when you want and in more places with the AT&T Mobile Broadband Network.**
Common Questions
Having trouble connecting to AT&T Mobile Broadband Network?View more info.
How do I get my free DataConnect Session and PSN Game? Read FAQ.
*Promotional Offer expires March 31, 2012. Redemption code must be used within 120 days of issuance and is not transferable, nor redeemable. Limit one per customer. Offer for purchasers of PlayStation®Vita 3G/Wi-Fi System only. Your promotional 250 MB session automatically starts upon expiration of your 1st session plan, if you have activated the redemption code. Offer redeemed is for 250MB DataConnect Pass session only, regardless if you are on the 250MB, 3GB or 5GB DataConnect Pass plan. AT&T not responsible for taxes or lost redemption codes. Plans automatically renew, so after your promotional session expires, automatic renewal of your 1st DataConnect Pass plan selected will take effect and you are responsible for charges, unless you cancel auto-renewal before the plan renews. DataConnect Pass Plan: Time begins expiring immediately upon purchase/activation whether you are using the service or not. Once your time expires or your allotted data is used, whichever occurs first, your data access will cease. Coverage not available in all areas. For information on prepaid data plans, visit att.com/buyasession and for full terms, see Session Based Wireless Data Service Agreement at att.com/wirelesslegal.