Borderlands®2 Limited Edition PlayStation®Vita Bundle
Borderlands®2 Limited Edition PlayStation®Vita Bundle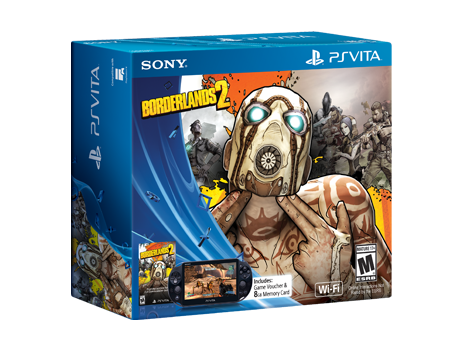 Include the greatness of PlayStation® gaming in your mobile lifestyle with the all-in-one Borderlands®2 Limited Edition PlayStation®Vita Bundle. With Dual Analog Sticks for precision control and critically acclaimed co-op you can shoot and loot through the world of Pandora with your friends. This bundle also features the new PlayStation®Vita system with the following enhancements:
Lighter and Thinner: Approximately 20 percent slimmer and 15 percent lighter than original.
Longer Battery Life: Increased battery life of four to six hours of game play.
Crisp Visuals with LCD Screen: High-resolution liquid crystal display (LCD) for vivid visuals .
Bundle features:
All-in-one Borderlands®2 Limited Edition PlayStation®Vita Bundle includes the new PS Vita Wi-Fi system, Borderlands®2 Full Game Digital Voucher, and 8GB Memory Card.
Six (6) Borderlands®2 DLC packs including, Captain Scarlett and her Pirate's Booty, Mr. Torgue's Campaign of Carnage, the Psycho Character Class, Mechromancer Character Class, Ultimate Vault Hunter Upgrade Pack 1, and Collector's Edition Pack.
Play with your friends with up to four (4) person cooperative multiplayer.

Borderlands®2 features:
Over-the-Top 'Shoot and Loot' Action Comes to the PS VITA
The critically acclaimed and bestselling role-playing-shooter hybrid, Borderlands 2, is now available for the PS Vita system! Stuffed with 6 Add On Packs, Borderlands 2 on PS Vita delivers hours upon hours of signature addictive Borderlands nonstop collaborative loot-shoot gameplay.
Borderlands 2 is the sequel to the critically acclaimed four-player cooperative shooter-looter that combined intense first-person mayhem with role-playing gameplay. The second game in the series, Borderlands 2 raises the action of the original game with an even larger and more detailed world to explore, an updated gun system, a new cast of characters and character classes, and integration of storyline with action.
Full Borderlands 2 experience on the PS Vita
The critically acclaimed and bestselling role-playing shooter hybrid now available on the go
6 Playable Character Classes
Including Mechromancer and Psycho expansion classes
Includes 6 Add On Packs:


Mr. Torgue's Campaign of Carnage Add On Campaign
Captain Scarlett and Her Pirate's Booty Add On Campaign
Psycho Character Class
Mechromancer Character Class
Ultimate Vault Hunter Upgrade Pack 1
Collector's Edition Pack

4 Player Co-Op Online
Shoot and loot through Pandora with up to 3 of your friends on the PS Vita
Cross Save with your PS3
Continue your save file on your PS3 and vice versa

Blood and Gore
Intense Violence
Language
Sexual Themes
Use of Alcohol