PlayStation®Vita Assassin's Creed® III
Liberation Bundle
PlayStation®Vita Assassin's Creed® III Liberation Bundle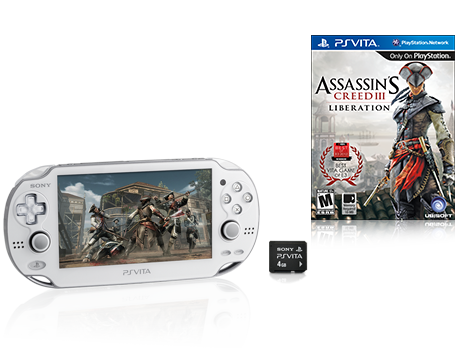 Introducing Assassin's Creed® III Liberation, the stunning new chapter in the Assassin's Creed® saga and designed exclusively for PlayStation®Vita handheld entertainment system.
The year is 1765. Ten years before the American Revolutionary War in the north, Spanish forces plan to take control of the Louisiana Territory in the south…but they have yet to reckon with Aveline, a deadly Assassin who uses every weapon and well-honed skill in her arsenal to win freedom for her land and her people. Whether silently eliminating her enemies with vicious slow-motion chain kills or luring them into deadly traps, Aveline strikes mortal fear into the hearts of any who stand in her way.
As an Assassin, Aveline finds herself on an unforgettable journey that will take her from the crowded streets and voodoo-haunted swamps of New Orleans to ancient Mayan ruins. She plays a pivotal role in the turbulent birth of the new nation and fights for freedom not only for herself, but for her fellow citizens, as well.
Bundle Includes
White PlayStation®Vita Wi-Fi System
Assassin's Creed® III Liberation
4GB Memory Card
*Limited Edition PS Vita Bundle: available only at participating retailers, while supplies last.
Assassin's Creed® III Liberation
PlayStation®Assassin's Creed® III
PlayStation®3 Assassin's Creed® III Bundle
© 2012 Ubisoft Entertainment. All Rights Reserved. Assassin's Creed®, Ubisoft, and the Ubisoft logo are trademarks of Ubisoft Entertainment in the US and/or other countries. "PlayStation®" and the "PS" Family logo are registered trademarks and the PlayStation®Network logo is a trademark of Sony Computer Entertainment Inc. The "PSVITA" logo is a trade mark of the same company.