Oreshika: Tainted Bloodlines™
The sequel to the original Ore no Shikabane wo Koete Yuke released in 1999 for Japan.
A beautiful Japanese watercolor world where a cursed bloodline is destined to fight against a demon. Your task is to lead the clan on their quest to lift the curse and enlist the help of gods inspired by Japanese mythology to make sure each new generation of the clan is more powerful than the last.
More info
Price:

Plus Price:
Genre
RPG

Publisher
SCEA

Available Platform
PS Vita

Release Date
TBD

Players
1

Max Online Players
0

Downloadable Content
Yes

ESRB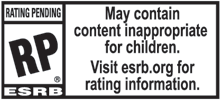 "PlayStation" and the "PS" Family logo are registered trademarks of Sony Computer Entertainment Inc.

© 2014 Sony Computer Entertainment Inc. Oreshika: Tainted Bloodlines is a trademark of Sony Computer Entertainment America LLC.