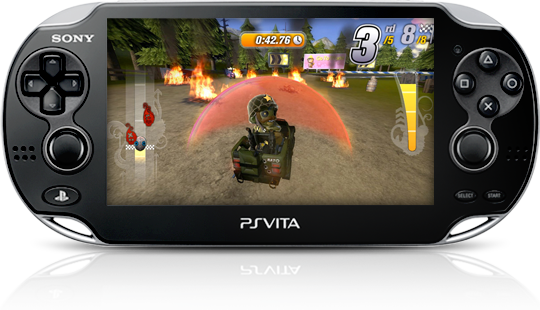 Endless miles of Kart racing at your fingertips

Welcome to the never-ending season of ModNation kart racing, where creativity rules on and off the track. Get on the starting grid of nearly 500,000 tracks available online or just race in our competitive circuit and compete with new dual analog stick racing and three new weapon classes. And with the new touch controls, you can create a new track in seconds and share it with the rest of the world. Buckle up for an endless ride!
More info
Click on icons to explore features
Genre
Racing

Publisher
Sony Computer Entertainment America

Available Platform
PS Vita

Release Date
02.15.2012

Players
1

Max Online Players
1

Downloadable Content
Yes

ESRB

Mild Cartoon Violence
Online Interactions Not Rated by the ESRB


"PlayStation" and the "PS" Family logo are registered trademarks of Sony Computer Entertainment Inc.