Compete on the go with F1 2011! The official game of FORMULA ONE™ includes all the cars, stars and circuits from the 2011 FIA FORMULA ONE WORLD CHAMPIONSHIP™. Go for motorsport's ultimate prize across a full season, enter individual GRAND PRIX™, or get a quick FORMULA ONE fix with Time Trials and Challenge mode. Then race sport's fastest racing cars in F1 2011's multiplayer modes including four player races and an innovative 2 vs. 2 co-op mode.

Test yourself against stars like Sebastian Vettel, Lewis Hamilton and Fernando Alonso.
Race iconic circuits including Monaco, Spa and Silverstone.
Use KERS and DRS for new attack and defence options -blast past rivals and defend your line.
Challenge mode presents a series of quick-fire challenges ideal for gaming on the go!
Team up with a friend in 2 vs. 2 co-op challenges.
More info
Click on icons to explore features
Price:

Plus Price:
Genre
Racing

Publisher
Codemasters

Available Platform
PS Vita

Release Date
02.22.2012

Players
-

Max Online Players
0

Downloadable Content
No

ESRB

Check out your friends' trophy progress now! Sign in to see who's playing this game.
Sign In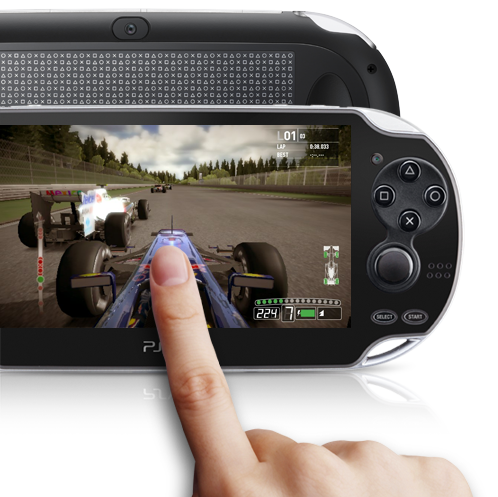 Touchscreen/
Rear Touch Pad
Instantly flick between camera views with a simple tap of the PS Vita System Touchscreen and become even more immersed in the action with quick, slick and intuitive 'paddle shift' style manual gear changes.


"PlayStation" and the "PS" Family logo are registered trademarks of Sony Computer Entertainment Inc.