Army Corps of Hell brings a new level of vicious combat, dark humor and lightning-quick action to the PlayStation Vita System. As the King of Hell you control an army of a hundred goblin soldiers with various classes and abilities to defeat a host of enemies in order to reclaim your throne. Take full advantage of the unique control features of the PlayStation Vita System to experience war like never before!
More info
Click on icons to explore features
Price:

Plus Price:
Genre
Action

Publisher
Square Enix, Inc.

Available Platform
PS Vita

Release Date
02.22.2012

Players
1

Max Online Players
0

Downloadable Content
No

ESRB

Blood and Gore
Violence
Check out your friends' trophy progress now! Sign in to see who's playing this game.
Sign In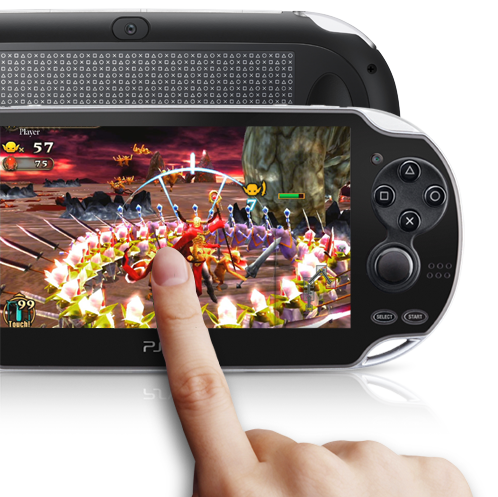 Touchscreen and
Rear Touch Pad
Use the rear touchpad to command your Goblins to play instruments, each activating special abilities. Revive your hero, rejuvenate your soldiers, and inspire your army!


"PlayStation" and the "PS" Family logo are registered trademarks of Sony Computer Entertainment Inc.

© 2011' 2012 SQUARE ENIX CO.' LTD. All Rights Reserved. ARMY CORPS OF HELL is a registered trademark or trademark of Square Enix Co.' Ltd. SQUARE ENIX and the SQUARE ENIX logo are registered trademarks or trademarks of Square Enix Holdings Co.' Ltd.