Play with
your friends
when you want and in more places
Change the way you play when you access AT&T Mobile Broadband Network.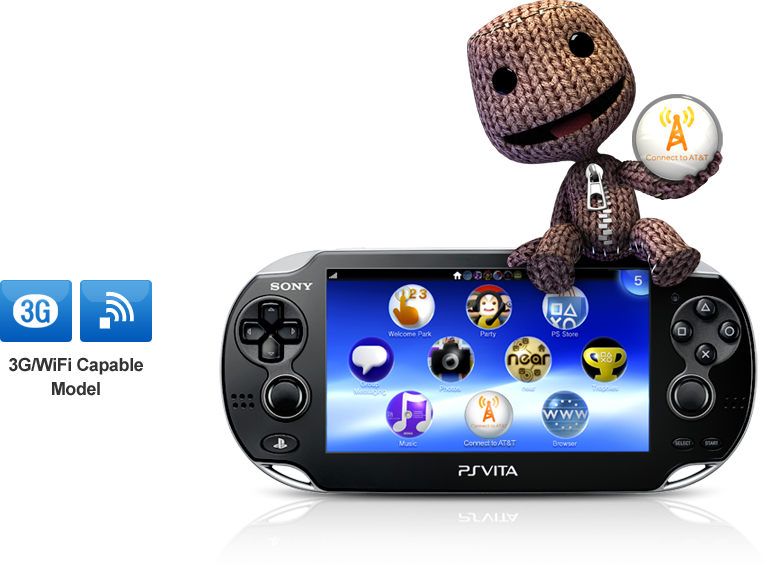 Watch the 3G Connectivity Video
PlayStation®Vita System Connects Players Through Games
Exclusive Feature Story
The PS Vita 3G/Wi-Fi System, powered by AT&T Mobile Broadband Network, changes the way you play with real-time scores and game ranking news feeds and cross-game text messaging with Party. Game at the speed of your mobile life style.
Service Plan
The AT&T DataConnect Pass plans are month-to-month with no long term contract. All plans include complimentary AT&T Wi-Fi hotspot access in the United States. There are three plan choices:
500MB for 6 months only $25.
1GB for 12 months only $50.
AT&T Mobile Share: PS Vita can be added to a Mobile Share Plan for just $10 a month! Get shared data for all your devices plus Unlimited Talk & Text for your phones on one simple plan. Plans range from 1GB to 20GB of data to share, and the more you share the more you save. Learn more here
Read FAQ
Sign Up Today and Receive a Free Game*
When you purchase and activate an AT&T DataConnect plan, receive Super Star Dust plus DLC ($14.99 value)

How to get your game:
Select and sign up for an AT&T DataConnect Pass plan.
Login to your PlayStation®Network account on your PS Vita System.
30 days after your DataConnect Pass activation, you will receive a game voucher code redeemable on the PlayStation®Store.
Read FAQ
Software Integration
Below are some PS Vita System first party titles that you may enjoy using AT&T Mobile Broadband or Wifi service.