PSP®go System Overview
It's go time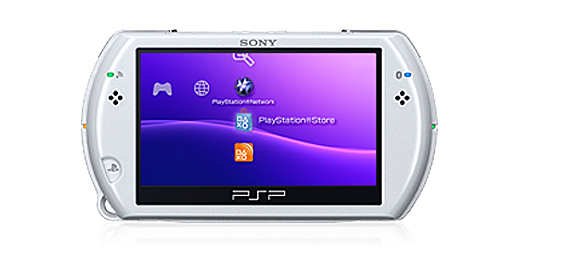 The PSP®go system is small but mighty. Built-in Wi-Fi* lets you download whatever you want, the second you want it, including hundreds of full games, add-ons, free demos, and the latest movies and TV shows from PlayStation®Store. Save everything directly to your giant 16GB hard drive: no need to carry around handfuls of game disks and memory sticks, although the Memory Stick Micro™ is always there if you need more room. Join online multiplayer games and use built-in Bluetooth support to connect to a wireless headset or call friends' PSP® systems, cell phones and landlines using our built-in Skype™** connection.Squeeze all those features into a space 43% smaller than the original PSP®system, add an ultra-crisp 3.8 inch LCD screen, high quality graphics, and robust game-play and you get the full experience of a console, but playable anywhere and everywhere.
It's go time
Ultra-portable design. 43% smaller than the original PSP® system and no discs to carry.
16 GB of Flash Memory provides plenty of space for games, movies, TV shows, photos and much more
Sleek, slide screen design easily fits into your pocket
Bluetooth® Enabled
Full multimedia capabilities including music, photos, videos, internet browsing, Skype™, internet radio and many more
Robust gameplay and crisp graphics that are only possible on the PSP®go system
PlayStation®Network anywhere
PSone® classics, movies and TV shows and of course tons of popular games and hit franchises
Hundreds of titles available for full game downloads and over 16,000 pieces of content available from the PlayStation®Store with much more to come
*User responsible for all associated fees.
** For PSP® system 1000, PSP® system 2000 and PSP® system 3000 series models, Skype feature requires headset and remote control (for PSP® system). Service fees may apply. You must have access to the Internet via a wireless access point or hotspot to use this feature.
Also View
Cables, memory & more