Limited Edition PSP® Sports Entertainment Pack
Limited Edition PSP® Sports Entertainment Pack Overview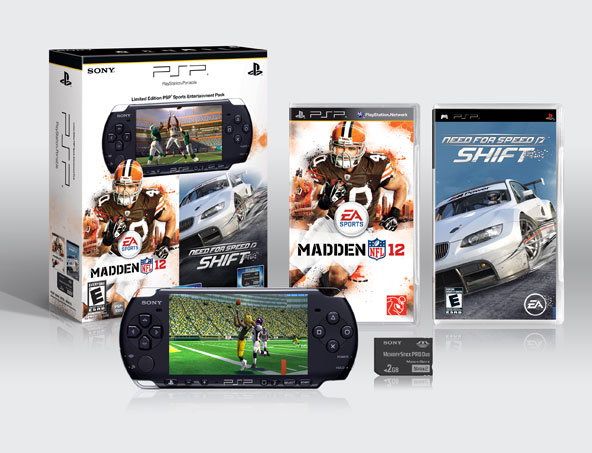 Hug the curves or the sidelines. Need for Speed: Shift and Madden 2012 team up for the Limited Edition PSP® Sports Entertainment Pack, complete with the most immersive handheld gaming experience, PSP 3000. The all-new driver profile system from Need for Speed identifies you by your driving skill and style. Or, take on all 32 NFL teams and all your favorite players, by building your own NFL dynasty in this latest installment of the Madden franchise - always True to the Game. Two classic titles. One amazing deal. Step your game up.
Includes the PSP - 3000, Madden 2012,Need for Speed: Shift and a 2GB Memory Stick Duo
PSP 3000 delivers a complete gaming experience unrivaled by other handheld systems.
Sleek, Piano Black PSP - 3000 features a brilliant, anti-reflective, 4.3" LED screen.
Hundreds of movies, TV shows and games available to enjoy wherever you go.
All-new driver profile system in Need for Speed: Shift, assigns unique player personas based on driving skill and style.
From icing the kicker when the game is on the line, to building the next dynasty, Madden 2012 is True to the Game featuring all 32 NFL teams, stadiums and your favorite players.