Getting started in PlayStation®Home
Huge Updates Coming to
PlayStation®Home

This Fall, the next stage of PlayStation®Home's evolution will come to your PlayStation®3 (PS3™). This renovation of PlayStation®Home's core experience integrates games, quests, community events and user-generated content, while providing players with additional navigation, shopping, socialization and entertainment options.
To play, join PlayStation®Network.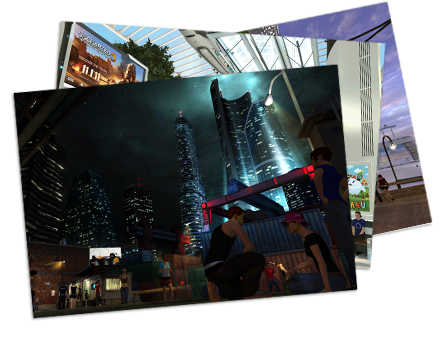 New Features
The Hub: The new, futuristic Hub includes a featured game, an Activity Board where players can engage in quests and community activities as well as create their own events to share with friends, and teleporters that transport players to a wide world of games.
Action District: A gathering place for the hardest of the hardcore, the Action District has a gritty, urban feel reminiscent of a first-person shooter level and provides access to action and horror games.
Sportswalk: The Sportswalk has an exciting outside-the-stadium feel with instant major league sports scores, headlines and highlights and hosts games custom-tailored to sports fans.
Adventure District: The Adventure District drops players in a lush island jungle with an air of mystery, hidden treasure and discovery, where you will be able to access adventure-themed games.
Pier Park: A waterfront boardwalk leads players to carnival, puzzle, outdoor and arcade games. Take a ride on the Pier Park Ferris wheel or visit the arcade for even more games.