Go to Forum
Maximize the Power of your PSP® System on your PC with Media Go
Free Media Go software lets you download content from PlayStation®Store to your PC, then to your PSP® system. It's an easy way to download and organize games, demos, movies, TV shows and more directly for your PSP® system.*

Just download and install the Media Go software to your PC and browse PlayStation®Store right from your desktop. After you've completed downloading your favorite games, movies, TV series, and comics, connect your PSP® system to your PC using a standard USB cable, and transfer your downloads directly to your PSP® system.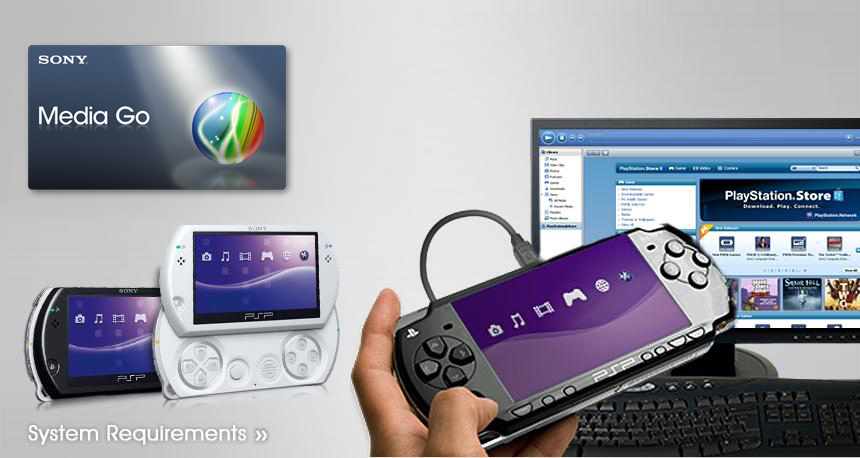 Features
Downloadable PSP® Games and Demos
Try out free game demos, add-ons and trailers or purchase PlayStation®Network exclusive games and PS one® Classics from PlayStation®Store.
PlayStation®Network Movies & TV Shows
Rent or own your favorite movies and TV shows from PlayStation®Store and watch them on your PSP® system.
Keep it Organized
The perfect entertainment organizer - Media Go software makes it easier than ever before to take your media with you wherever you go. Media Go software supports movies, TV shows, trailers and other videos downloaded from PlayStation®Store so you can easily organize and transfer to your PSP® system. You can also:
Subscribe to feeds such as podcasts and video blogs and automatically get new episodes on your PSP® system
Discover new video and audio podcasts from around the world in Media Go software's podcast directory
Rip songs from your CDs and transfer them to your PSP® system
Look up album and artist information and artwork from Gracenote® MusicID®
Automatically synchronize content like playlists, podcasts, and recently added media to your PSP® system
*Requires internet access and updated PSP® System Software. User is responsible for all internet fees.
Looking for Media Manager? Media Manager has been replaced by Media Go to offer an even better PlayStation®Store experience on your PC. To learn more visit the Knowledge Center.