Classic White PS3™ Instant Game Collection Bundle
Classic White PS3™ Instant Game Collection Bundle
Classic White PS3™ Instant Game Collection Bundle Overview
The Classic White PS3™ Instant Game Collection Bundle includes, for the first time, a white slim chassis with a massive 500GB hard drive, perfect for storing the robust selection of games that come with a 1-Year membership to PlayStation®Plus. Over $200 in savings!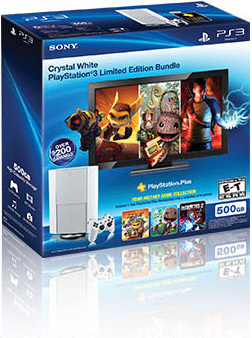 Key Features
Instant Game Collection Bundle includes a 1-Year Membership to PlayStation®Plus featuring:
12 Hit games including LittleBigPlanet™ 2, inFAMOUS™ 2, Ratchet & Clank: All 4 One™, and more added each month
Access to member exclusive Game Betas, Demos and Features
Exclusive discounts of 10% - 75% on the PlayStation® Store
1 GB of cloud storage and automatic game saves and system updates
6 Additional games unlocked for your PS Vita system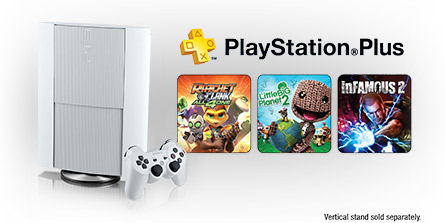 Limited Edition Classic White PlayStation®3 with massive 500GB* hard drive to store your entertainment including:
3750 Games
297 Movies
198,437 Songs
80,000 Photos
Bundle Contents
PlayStation®3 System Classic White 500GB
DUALSHOCK®3 wireless controller in Garnet Red
* Or any combination of the above media. Calculations based on 1.3GB average for movies, 100MB average for games, 5MB average for photos and 3.5MB average for songs
** A credit card is required to redeem your PlayStation®Plus 1-year membership, but you will receive this trial without charge.
Active PlayStation®Plus membership required to access content. Sony Entertainment Network account is required.
Enhance Your PS3™ Experience