Pure Entertainment
Go beyond gaming. The best in movies, music, sports, and television
Take a break from gaming to enjoy the multitude of digital entertainment options your PS3™ system offers. Watch the best in movies and television instantly with services such as Netflix, Hulu, and Vudu. Keep the party going by streaming music directly to your system with Qriocity. And show support for your favorite team by never missing a game with MLB TV and NHL Gamecenter LIVE.
Go to Forum
A Higher Resolution
Watch Blu-Ray™ movies in HD
Push your HDTV to the limit with the built-in Blu-ray™ player on your PS3™ system. Watching Blu-ray™ movies in full 1080p resolution, with up to 7.1 channels of surround sound, will make you wonder how you ever settled for anything less. And with instant streaming from Netflix you may never run out of things to watch.
A new dimension in entertainment
Get true stereoscopic 3D
The future of movies and gaming is here with true stereoscopic 3D. Watch as your favorite heroes from gaming and film come to life in front of your eyes like never before. And with the new PlayStation®3D Display, 3D has never been easier or more affordable. For more information on 3D and the 3D display go to (pending 3D Display URL)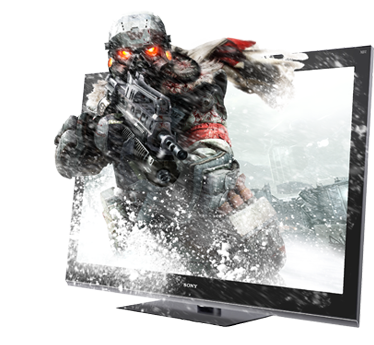 Free PlayStation®Network membership connects you to friends and awesome strangers*
Gaming with friends is fun. But sometimes they say, "I need to sleep now" or "I can't feel my thumbs anymore." Then what? Luckily, you can still play on PlayStation®Network. With over 38 million members, there's always a multiplayer online game to join or people to chat with. And with hundreds of games and free demos available for download at PlayStation®Store, there's no shortage of stuff to try and trophies to collect.

*User responsible for applicable internet fees