MLB.TV® PREMIUM
Updated for the 2014 MLB® season, MLB.TV® on your PS3™ or PS4™ system brings everything you loved last season with even more exciting features. Download the application today!
Walk-off homers, no-hitters, diving catches, blazing fastballs, wicked liners, milestones, pennant races, superstars and tradition.
Blackout and other restrictions apply. Visit MLB.com for details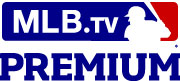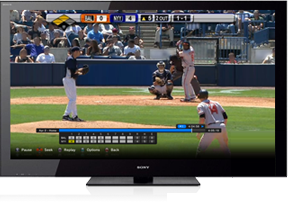 *Simulated media player image
MLB.TV® Premium on PlayStation® brings you
Highest Quality HD Streaming – Speed detection technology gives users ultra-HQ video access depending on available bandwidth.
Enhanced Audio – In-game alternate audio selection allows users to overlay the home or away team's broadcasters over the live video or use the "Park" option to include the ballpark's natural sounds.
Home and Away Feeds – Choose to watch either the home or away broadcast feed with a subscription to MLB.TV® Premium.
Live Broadcast DVR Functionality – Use the live video overlay to pause and rewind live games or fast-forward to return to live game action.
Quick-Access Stats – View player cards with full career stats, league leaders, and in-game stats including AB, R, H, RBI, K, BB, SO, LOB, AVG, HR, SB.
Event Navigation – Select in-game event types, such as home runs, hits or stolen bases, to show on a progression timeline and jump directly to the at bat where they happened.
Season Archive – Watch games and relive great moments from earlier in the season.
Scrollable Linescore – Go directly to any half-inning to watch only that portion of the game.
MLB Scoreboard – Scrollable league-wide scoreboard for each day's games in three modes: Pre-game with scheduled starting pitchers; Live with up-to-the-minute game status; and Post-game with final pitching decisions and archived feed selection.
Favorite Team Selection – Pick a favorite team or teams to be featured first on the daily scoreboard.
Calendar Schedule – Scroll through the entire 2014 Major League Baseball schedule in calendar format or the user-designed favorite team's schedule.
Activate your MLB.TV® subscription on the PS3™ or PS4™ system or subscribe to MLB.TV® today.
Portions © 2014 MLB Advanced Media, L.P. All Major League Baseball trademarks, service marks and copyrights used herein are the property of the applicable MLB entity. All rights reserved.