We Know Games
The experience you expect, the titles you cherish
You expect choices from a game console and you want the most immersive experience out there. The PS3™ system delivers both. Dive into hundreds of high definition titles from some of the most recognizable franchises in gaming today. With stereoscopic 3D graphics and PlayStation®Move motion gaming, games have never seemed more real. So from games you wouldn't be ashamed to play with grandma, to titles that make you afraid to sleep without the lights on, the PS3™ system has everything you need, all in one place.
View PS3™ Systems
Go to Forum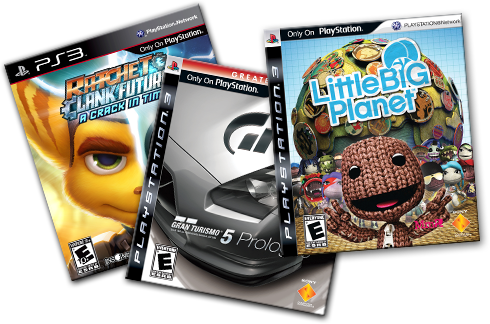 Exclusive Games
Only on PlayStation®3
Take the checkered flag in Gran Turismo®, fight off the evil Chimera in Resistance®, or find the ultimate treasure in Uncharted™, the PS3™ system has some of the best exclusive franchises. Even better, pick up best-selling titles that you may have missed for a reduced price from our Greatest Hits lineup. Check out our game library here http://us.playstation.com/ps3/games-and-media/
Get online
Expand your games/gaming with the PlayStation®Store and PlayStation®Network
Register for free on PlayStation®Network and enjoy exclusive games and free* online multiplayer. Go beyond traditional multiplayer interaction with PlayStation®Home and enjoy an online, interactive gaming community like no other.
Expand your gaming options with the PlayStation®Store. Download demos, games, and exclusive content directly to your PS3™ system. Sign up for your own Sony Entertainment Network account for free today. *User responsible for applicable internet fees.
Learn more