PlayStation®3 Features
More of what you want, and features you never expected
PSN
Unlock the full potential of your PlayStation® with PSN. Experience high quality entertainment through free online multiplayer gaming, access to thousands of 3D and HD movies, and millions of songs, all while connecting with friends.
Free Online Multiplayer Gaming
Open
Play online games for free.
Coordinate strategies across battlefields with friends, share creations with family, or experience unforgettable journeys with co-op gameplay.
Earn trophies as awards and testaments to your gaming abilities.
High Quality Movies, Music, Games and More
Open
Go to the PlayStation®Store and get new games, demos, and DLC add-ons for your games. Or explore a full library of the latest and greatest in movies to download.
Stream thousands of 3D and HD movies along with your favorite TV shows through Netflix, Hulu Plus, CinemaNow, and VUDU.
Watch sports like never before with NHL Game Center and MLB.tv. Watch multiple games, stats, highlights and much more.
Stream millions of songs instantly across multiple PlayStation® devices via Music Unlimited.
Connect with Friends
Open
Explore PlayStation®Home: a social game platform with hundreds of games and millions of people.
Use voice and video chat to stay in touch with friends.
Build your friend lists, send messages and game invites.
Make your voice heard on the PSN Community forums. Learn more about PSN Downloadable Games, find new PSN friends, or just share your thoughts!
PlayStation®Plus
Open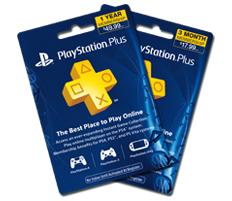 PlayStation®Plus is the premium subscription service for PSN that gives you free games, huge discounts and great exclusives all for about $4 a month.* Click here to learn more and get access, today.
*Just under $5 monthly subscription cost based on 12-month subscription price of $49.99.

Buy 12 Months
Just under $5/month.
Get a year of Plus for $49.99.
Buy 3 Months
Just under $6/month.
Get 3 months of Plus for $17.99.