Packed with Entertainment
One in three households in the U.S. has a PlayStation®2 system. We suspect they're on to something. And the PlayStation®2 system 'appeal' is obvious: over 1800 games, tons of them at a reduced in our Greatest hits section, plus a built-in CD/DVD player and Dolby® Digital sound.
Systems & Bundles
1800-strong game library
Everyone loves to play video games. And yes, PlayStation®2 games are incredibly fun, but always remember that games can teach you valuable gaming skills. Ratchet and Clank®, for one, will show you the best way to escape killer robot clones. NBA '08 will teach kids important lessons about controlling the ball when they're 6'8" professional basketball players. And Syphon Filter®: Dark Mirror will teach your friends how to follow complicated plot lines. After all, you never know when you'll have to tell them the story of how you dunked on those clone robots.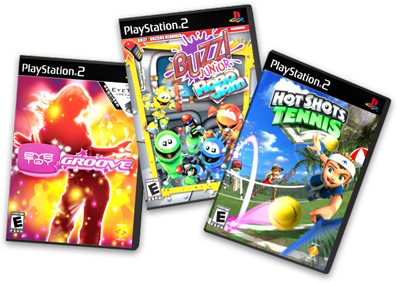 Something for everyone
The biggest perk of the PlayStation®2 system is the sheer number of games you can play on it. But it's not just for gaming – the PlayStation®2 system can transform the way you watch movies and listen to music. With Dolby® Digital sound and a built in CD/DVD drive, the PlayStation®2 system does in one machine what you'd otherwise do with three. It's perfect for movie buffs, music lovers, and gamers of all kinds. In other words: everyone.