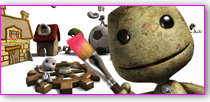 What is LittleBigPlanet?
LittleBigPlanet is what you make it. Mold this glued and stitched-together world to your liking, creating new levels, adventures and whole games for your Sackperson. Players can PLAY levels together, CREATE their own content, then go online to SHARE with other players around the world.
In the original award-winning LittleBigPlanet, you can create levels for your Sackperson, designing and building new platformer adventures. LittleBigPlanet 2 gives you familiar but revamped gadgets and tools that let you do much more. Bring characters to life, compose your own music, direct cinematic masterpieces, control custom contraptions, even use switches, microchips and circuit boards to build epic bosses, vehicles, machines, and puzzles.
Make your wildest dreams come true, yes, even that one.
LBP isn't just a platformer, it's a platform for games. With our new toolset in your little burlap hands, you'll have all the ingredients of a great game laid out before you, waiting for you to stew them up into something nutritious. Whether it's a new racing game, action game, or even a shooter, cast a Sackperson as the lead and have a blast.
When you're done, share your creation with the LBP Community or download and play any of the 3 million-plus user-created levels from the original LittleBigPlanet. Then use our advanced sharing tools to make and share even more. Our new web portal, LBP.me, will give every single LBP creation its own home on the web, with a page for every creator and every level. Browse creations online to find fab levels, add them to your queue to play later on, check photos, comments, leader-boards, create and share playlists, and easily promote your levels and games wherever you might hang out online.
This is more than just gaming. I smell a revolution.