Puppeteer™
Platform:

PS3™

Genre:

Action, Platformer

Puppeteer™ Overview
One dark moonlit night, a young boy named Kutaro was carried away by the maleficent Moon Bear King to a black castle where the unlucky lad was transformed into a puppet.
Kutaro displeased the terrible tyrant, who devoured the boy's wooden head and cast away his body. But the headless hero was not alone, for he had discovered a very special pair of scissors to help him on his harrowing adventure to find his head, and his way home.
Puppeteer is a brand new franchise developed exclusively for the PlayStation®3 system by SCE JAPAN Studio. Set in a magical puppeteer's theatre, this title will introduce you to a strange and fantastic world, where the environment is constantly changing. Players will enjoy a rich, dark fairytale where surprises lurk around every corner.
Game Features
Swappable Heads - The unique ability to change your head anytime you choose.
More Info
Puppeteer Traveling Theater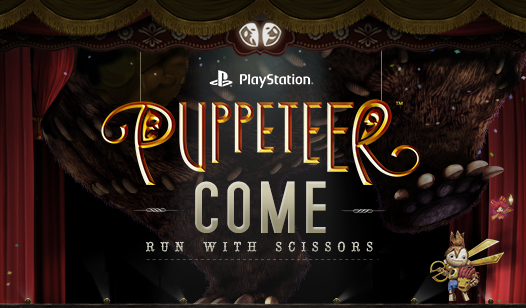 Watch videos of our improv Puppeteer theatre that took place on September 5th in San Francisco, CA.
Watch Now
Did you take the stage? Find your video by entering the code.
Experience this Product at these Events

Genre:

Action, Platformer

Publisher:

Sony Computer Entertainment America

Available Platform:

PS3™

Release Date:

09.09.2013
Players:

1-2

Max Online Players:

N/A

3D Compatible:

Yes



"PlayStation" and the "PS" Family logo are registered trademarks of Sony Computer Entertainment Inc.

PS3 is a trademark of Sony Computer Entertainment Inc.
(c)2012 Sony Computer Entertainment Inc. Puppeteer is a trademark of Sony Computer Entertainment America LLC.