Gran Turismo® 6
Platform:

PS3™

Genre:

Racing

Gran Turismo® 6 Overview
The next stage in the evolution of the world's most popular and comprehensive racing simulator is upon us. Gran Turismo 6, the latest installment in the best-selling series, will reach stores this Holiday season. Known for blurring the lines between virtual and reality, the Gran Turismo series has revolutionized the racing genre in the last 15 years, allowing fans to drive the most prolific collection of cars on the world's most legendary racetracks. Gran Turismo 6 takes the real driving simulator experience to a whole new level.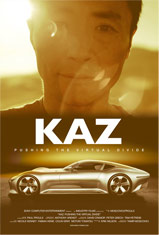 KAZ: Pushing the Virtual Divide This film is about drive. It's about the passion and creative drive of Kazunori Yamauchi, the architect behind Gran Turismo's birth and breath-taking fifteen-year evolution. This film will trace his relentless willingness to challenge himself, to hold none of his past achievements sacred, and push beyond the virtual divide in his pursuit of perfection. Through the support of PlayStation, Kaz's journey has forever changed the gaming and automotive landscape and in doing so, has redefined how we perceive the relationship between art, entertainment and culture.
Experience this Product at these Events

Genre:

Racing

Publisher:

SCEA

Available Platform:

PS3™

Release Date:

12.06.2013
Players:

Max Online Players:

0

3D Compatible:

No



"PlayStation" and the "PS" Family logo are registered trademarks of Sony Computer Entertainment Inc.

PS3 is a trademark of Sony Computer Entertainment Inc.