BioShock® Infinite
Platform:

PS3™

Genre:

Shooter
BioShock® Infinite Overview
Indebted to the wrong people, with his life on the line, veteran of the U.S. Cavalry and now hired gun, Booker DeWitt has only one opportunity to wipe his slate clean. He must rescue Elizabeth, a mysterious girl imprisoned since childhood and locked up in the flying city of Columbia. Forced to trust one another, Booker and Elizabeth form a powerful bond during their daring escape. Together, they learn to harness an expanding arsenal of weapons and abilities, as they fight on zeppelins in the clouds, along high-speed Sky-Lines, and down in the streets of Columbia, all while surviving the threats of the air-city and uncovering its dark secret.
More Info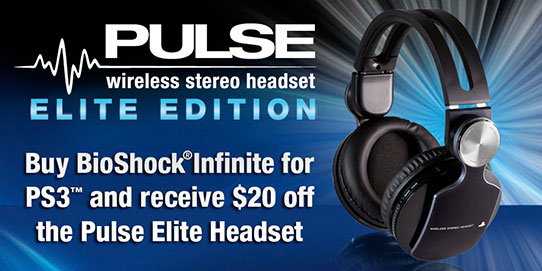 "If you're playing on the Playstation®3, there is a special mode designed by Irrational for use with the PULSE Elite Headset, which is one of the most immersive sound experiences I've ever heard, or perhaps more appropriately, felt."

–Colin Snyder, VICE/Motherboard

Check out your friends' trophy progress now! Sign in to see who's playing this game.
Sign In
Genre:

Shooter

Publisher:

2K Games

Available Platform:

PS3™

Release Date:

03.26.2013
Players:

1

Max Online Players:

0

3D Compatible:

No



"PlayStation" and the "PS" Family logo are registered trademarks of Sony Computer Entertainment Inc.

PS3 is a trademark of Sony Computer Entertainment Inc.
© 2002-2013 Take-Two Interactive Software' Inc. Developed by Irrational Games. BioShock' BioShock Infinite' BioShock Infinite: Industrial Revolution' Irrational Games' 2K Games and their respective logos are trademarks of Take-Two Interactive Software' Inc. All other trademarks are property of their respective owners.