Free for PlayStation®Vita!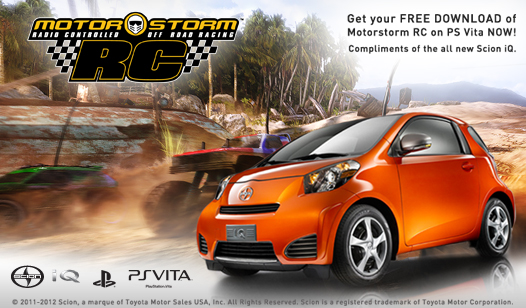 For a limited time, the complete PlayStation®Vita MotorStorm™ RC game is available for download absolutely free, courtesy of our partners at Scion.
Not only that, but you'll be able to drive a custom RC version of Scion's iQ which is exclusive to the PS Vita version of the game.
The PS3™ version is available separately for $9.99, and a variety of DLC such as new tracks, vehicles, and time saver passes is also available for purchase for both versions of the game.
MotorStorm™ RC features sixteen unique tracks spread across four extreme environments, including the dusty desert mesas of Monument Valley, the dangerous jungles of a Pacific Island, the icy tundra at the Arctic Edge, and the apocalyptic ruins of an urban city. Players can conquer these environments in powerful radio-controlled vehicles, with hundreds of uniquely customized models to collect and performance based on 8 distinct categories: Buggies, Superminis, Rally Cars, Muscle Cars, Racing Trucks, Supercars, Big Rigs and Monster Trucks.
Visit the PlayStation®Vita store to download your free game today!
What Else Is Happening