LittleBigPlanet™ Karting PAX T-Shirt Design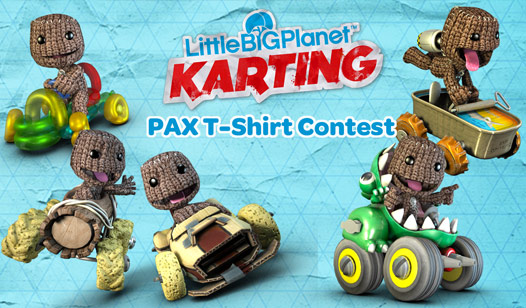 Design the 2012 PAX Prime T-Shirt for LittleBigPlanet™ Karting!
We want to enlist our creative Sackfolk community to design our next LBP t-shirt! To get started, download the template below, and begin your design. The rules are simple, please have your design include:
Classic (knitted, non-costumed) Sackboy
Kart
Check the above banner for inspiration. Feel free to get creative with your design, no specific poses or styles are required!
Your design may use 1-3 colors printed on any color of shirt. Also, you may utilize up to 3 of the areas on the template.
The winning design will be chosen by the development team and turned in to the T-Shirt that we give away at PAX Prime this year! Additionally, the Grand Prize winner will receive a 3G PlayStation Vita, 16GB Memory Card, a copy of LittleBigPlanet™ PlayStation Vita, a copy of LittleBigPlanet™ Karting, and a sample of their winning design!
Download t-shirt template file:

Note: you do not have to use these exact templates. They are just here for visual reference.
Get Your LittleBigPlanet™ Karting Here
What You Could Win
3G PlayStation®Vita handheld entertainment system
Click for Details
LittleBigPlanet™ Karting
Click for Details
What Else Is Happening