SCEA Motion Capture Services
One of the most sophisticated Motion Capture studios in the world is nestled right in SCEA's San Diego campus. Vast as an aircraft hangar, the 120'x120' space is filled with 124 cameras and divided by a non-reflective, acoustic absorbing curtain that drapes from the 35ft ceiling. This high-tech partition enables the studio to offer the popular service of synchronous Motion Capture and audio recording.


With one side of the building dedicated to multi-person in-game and stunt action, the other side is devoted to detailed facial and body capture with markers as small as 3mm. The walls are quilted with pillowed columns of soundproofing material that help to absorb the agonized screams of actors like Matt Delnegro and Mr. Nathan Drake himself, Nolan North. Audio is a huge part of gaming, and the actors are making sure their pixilated counterparts sound appropriately tortured while getting shot in the guts in games like Resistance 2, the SOCOM series, and God of War.
State-of-the-art motion capture stage
Default Stage
50ft by 30ft
55 Vicon Cameras
Synchronous audio capture with in-house engineer
6 HD video reference cameras
Integrated Motion Capture, Audio and Video time code
Multiple character and environment real time feedback
Custom set pieces and props available
Ability to view and direct shoots remotely
Custom zones available on both stages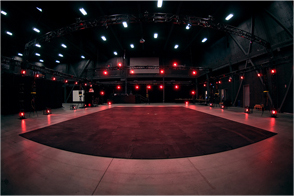 Full Performance Stage
13ft by 13ft
120 Vicon cameras
4-6 HD video reference Cameras
Synchronous audio capture with in-house engineer
Integrated Motion Capture, Audio and Video time code
Custom set pieces and props available
Ability to view and direct shoots remotely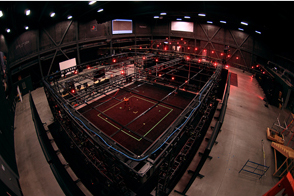 Additional Services
Full service video suite tailored to client needs
Casting support to include stunt artists, actors and models.
Catering and craft service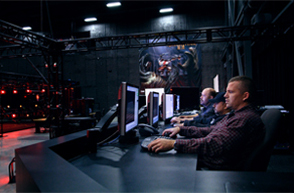 Post processing services
Data Cleanup
1Focusing on marker data only, tracking is the first step of post process in the Motion Capture pipeline. Each marker on the actor's suit is picked up by our expert trackers who quality control each one through every single frame of data. At this stage, common issues such as jitter and occlusion are addressed and rectified. Once the marker cloud has been tracked, it can then be solved to the game character. The goal of the tracking department is to ensure a strong start to post-production and uphold the guarantee that our marker data reflects the exact performance during its transition into the digital world.
Solving
2A character cannot move without the use of its skeleton. Using the latest and best bio-mechanical tools in the industry, our solving team maintains performances on the actor's digital counterpart, regardless of shape and size. Simply put, our solving team ensures that what an actor does on stage is what a character does in game.
Motion Editing
3Effectively the "puzzle solvers" of the studio, our team of veteran motion capture editors are the first to set the stage for game cinematics. Using assets from every production department, they create the scene, providing the characters a set, a voice and a performance. Then when it is time for the character to interact in the game world, they bring the game characters to life creating hundreds of motions that can looped, blended and ready for action.
Games that use motion capture