Management
Chairman of Sony Computer Entertainment.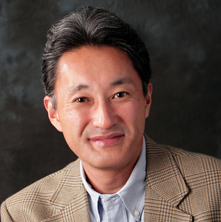 Kazuo Hirai
Kazuo (Kaz) Hirai brings over two decades of experience with Sony Group to his position as Chairman of Sony Computer Entertainment.
One of the most recognized leaders in interactive entertainment, Hirai played a pivotal role in elevating the industry to a stature which now rivals Hollywood box office revenues. Previously named "mogul in the running" in Vanity Fair's "New Establishment" list, and one of the most powerful executives in the business by Entertainment Weekly, Hirai succeeded in establishing games as a significant genre on par with music and movies, making the PlayStation® brand synonymous with exceptional gaming and em. Hirai led the company into various new frontiers, including the introduction of PlayStation®2 online gaming in 2002 and PlayStation®Network in 2006, which has more than 20 million accounts worldwide as of today.
Hirai joined Sony Computer Entertainment America in 1995, with responsibility for the operational management of the company under the former president. Before that, Hirai worked in Sony Music Japan's New York office coordinating the marketing of Sony Music Japan artists in the U.S. Hirai began his career with CBS/Sony Inc. (now Sony Music Entertainment Japan) in 1984 where he was instrumental in the marketing coordination of international music in Japan and later headed the international business affairs department.

Hirai received his bachelor of liberal arts degree from the International Christian University in Tokyo.