Special SEGA #WinItWed: Limited Edition Sonic Headsets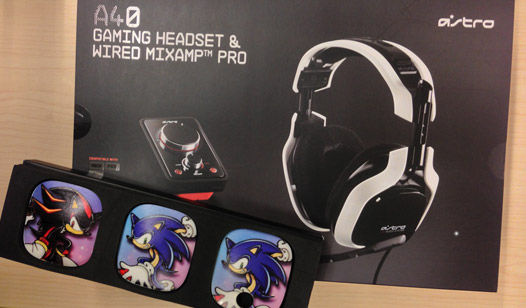 Do you love classic SEGA titles? Do you ALSO love high quality audio systems and great items from said classic SEGA titles? If the answer to both of these questions is "Yes!", then you are in luck! In celebration of the recent release of Sonic Adventure 2™, NiGHTS into dreams...™, and Jet Set Radio™ on Playstation®Network, we're offering up a bevy of great prizes for this week's Win It Wednesday!
Earlier this year, we partnered with Astro Gaming to give away some seriously cool, limited edition Astro A40 Sound Systems complete with Sonic Adventure 2 custom faceplates. If you weren't able to participate, now's your chance! We're giving one away as the Grand Prize this week!
We've also got a great runner-up prize package for three additional fans which includes a stylish Jet Set Radio™ hoodie, a comfy NiGHTS into dreams pillowcase, and a colorful, dual-sided Sonic Adventure 2 lanyard!
You may be asking "How do I enter to win these amazing things? Surely some form of physical activity and/or no-holds barred elimination match must be involved". NAY! Simply tell us which of these three titles you're MOST excited to see returning to Playstation®Network.
Each game has received our Heritage Collection treatment with spectacular HD Widescreen presentation and cool bonus content that will delight both longtime fans and new players alike! If you haven't checked it out on the storefront, don't delay! They're available now!
The A40 Audio System pairs the award-winning A40 Headset with the MixAmp™ Pro, infusing your gaming audio with incredibly accurate Dolby 7.1 Surround Sound. Check out more of Astro's amazing audio hardware at http://www.astrogaming.com/
What You Could Win
Limited Edition Sonic Astro Headset
Click for Details
Jet Set Radio Hoodie, Lanyard, and Nights Into Dreams Pillowcase
Click for Details
What Else Is Happening