San Francisco PS4™ Launch Event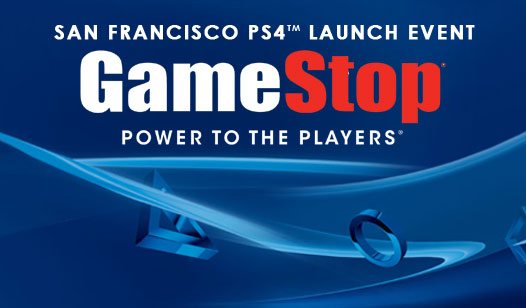 Join us in celebrating the launch of the PS4™ at the Market Street GameStop in San Francisco on November 14th! We're counting down to midnight with games and incredible giveaways of rare PlayStation® collectibles, including:
PS4s signed by Jack Tretton
Signed Giants memorabilia paired with MLB 13® The Show™
Various signed collector's items from The Last of Us™
PlayStation®Vita prize packs
And many more!
Dress up as your favorite PlayStation® character or put on your favorite PlayStation® shirt, and let's show the world what it means to be a PlayStation® fan for the night! The event is completely free and doors open at 6:00pm so don't be late. The fun goes on up until midnight, when you get to be one of the first to take home your very own PS4™! There will even be a limited supply of PS4s available to purchase for those who haven't had the chance to pre-order yet.
As always, don't forget to follow @HeyPlayStation for event updates - you'll definitely want to pay attention to the Twitter feed throughout the night so you don't miss out on special giveaways only available to followers.
Can't make it to this event? Don't worry, there are midnight launches taking place all across the country. Contact your local retailer for details on their launch events, or tune in to Spike TV to watch a live stream from the comfort of your own home.
What Else Is Happening