God of War: Ascension™ Pre-Order Exclusive: King Leonidas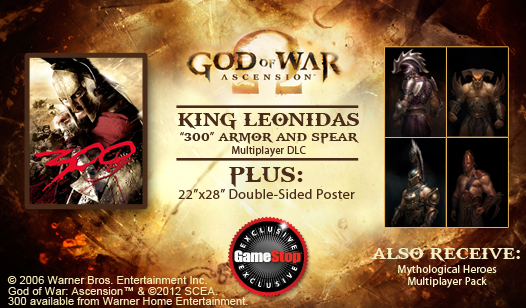 For the first time ever, King Leonidas is brought to life in the God of War: Ascension™ multiplayer as depicted by Gerald Butler in the blockbuster film "300". If you pre-order God of War: Ascension™ standard or collector's edition at GameStop you will receive a voucher code that gives you access to history's most heroic Spartan.
Donning King Leonidas's red cape, iconic helmet, and armor, you will stand apart as one of the ultimate warriors of Sparta. King Leonidas also comes with his iconic spear weapon for use against your foes in multiplayer mode.
In addition to the "300" King Leonidas skin, you will also receive an exclusive double-sided God of War: Ascension™ poster, as well as the Mythological Heroes Multiplayer DLC pack (via voucher code), featuring Perseus, Orion, Achilles and Odysseus!
What Else Is Happening