GT Academy 2014 - Powered by Gran Turismo® 6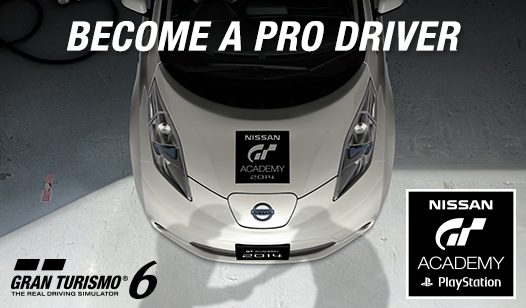 VICTORY IS ANYONE'S
GT Academy is an international virtual-to-reality contest that allows the best Gran Turismo® players to compete for the once-ina- lifetime opportunity to become a real-life professional racecar driver. Any player who proves his or her skill in the virtual world has a chance to go wheel-to-wheel in a real racecar on a real circuit to achieve the grand prize - a spot on the Nissan racing team, and all the training and licensing needed to race in international events.
The journey from Virtual to Pro starts with a completion of a online qualification in Gran Turismo® 6 (Game Copy Required) from 4/21/14 to 6/16/14. The top Gran Turismo® gamers are identified in a series of online time trials using pre-selected Nissan vehicles. Thousands of hopefuls are narrowed down to a selected few, who are then selected to participate in a National Final Event where they battle in special racing pods during a series of live Gran Turismo® elimination rounds.
The top performers from these National Finals are then invited to take part in the Final Selection Round - an intense Race Camp competition held at the famous Silverstone Racing Circuit in England. Here, the action jumps from the virtual cars of the PS3™ game to actual Nissan sports cars, as competitors are tested on their strength, stamina, mental agility and driving skills. Judges look for pure talent, drive, passion and dedication to determine who really has what it takes to become a professional racecar driver.
What Else Is Happening