PlayStation® E3 Experience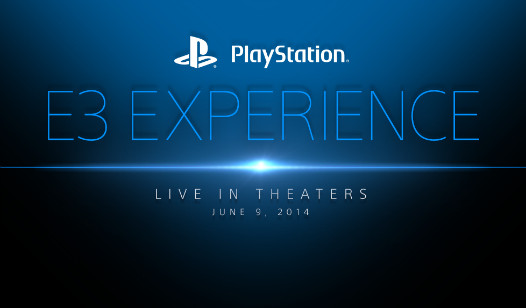 On June 9, PlayStation® invites its fans throughout North America to gather together to experience the news and announcements of E3 like never before - LIVE on a massive screen in over 40 theaters across the United States and Canada.
The PlayStation® E3 Experience, hosted by Geoff Keighley (Spike TV), will feature an HD broadcast of the PlayStation® E3 Press Conference, as well as 30 minutes of extra content, including exclusive extended game footage and interviews with the world's top developers.
Fans who attend the PlayStation® E3 Experience will go home with a commemorative PlayStation® collectable and a surprise gift! The event is FREE for everybody, so register while there's still space. Participating list of theaters below.
Participating Theaters:
| | | |
| --- | --- | --- |
| THEATRE NAME | CITY | ST |
| Cinemark Anchorage 16 with XD | Anchorage | AK |
| Regal Trussville 16 | Birmingham | AL |
| AMC Ahwatukee 24 | Phoenix | AZ |
| Cineplex Cineplex Odeon International Village (Tinseltown) | Vancouver | BC |
| AMC Century City 15 with IMAX | Los Angeles | CA |
| AMC Mission Valley 20 with IMAX | San Diego | CA |
| Cinemark Century 9 San Francisco Centre with XD | San Francisco | CA |
| Regal Pavilions 15 | Denver | CO |
| AMC Mazza Gallerie 7 | Washington | DC |
| AMC Sunset Place 24 with IMAX | Miami | FL |
| Regal Waterford Lakes Stadium 20 with IMAX | Orlando | FL |
| Regal The Avenues Stadium 20 | Jacksonville | FL |
| Regal Hollywood 24 @ North I-85 | Atlanta | GA |
| Regal Boise Stadium 22 with IMAX | Boise | ID |
| Regal City North 14 with RPX | Chicago | IL |
| Regal Galaxy 14 | Indianapolis | IN |
| Cinemark Tinseltown Louisville | Louisville | KY |
| Regal Citiplace 11 | Baton Rouge | LA |
| Regal Fenway 13 with RPX | Boston | MA |
| Regal Brooklyn Center 20 | Minneapolis | MN |
| Regal Gravois Bluffs Stadium 12 | Fenton | MO |
| Regal Kansas City 18 Cinemas | Kansas City | MO |
| Regal Stonecrest 22 @ Piper Glen with IMAX | Charlotte | NC |
| AMC Oakview 24 with IMAX | Omaha | NE |
| Regal Cottonwood 16 | Albuquerque | NM |
| Regal Village Square 18 | Las Vegas | NV |
| Regal Union Square Stadium 14 | New York | NY |
| Regal Transit Center Stadium 19 with IMAX | Buffalo | NY |
| Regal Georgesville Stadium 16 | Columbus | OH |
| Cinemark Tinseltown USA | Oklahoma City | OK |
| Cineplex Yonge & Dundas | Toronto | ON |
| Regal Lloyd Center 10 with IMAX | Portland | OR |
| Regal Riverview Plaza | Philadelphia | PA |
| Cinemark Pittsburgh North 11 | Pittsburgh | PA |
| Cineplex Scotiabank Theatre Montreal + IMAX | Montreal | PQ |
| Regal Columbiana Grande Stadium 14 | Columbia | SC |
| Regal Opry Mills 21 with IMAX | Nashville | TN |
| Regal Houston Marq*E Stadium 22 plus IMAX | Houston | TX |
| Regal Cielo Vista 18 | San Antonio | TX |
| Regal Galaxy Theatre | Dallas | TX |
| Cinemark Salt Lake City 16 | Salt Lake City | UT |
| AMC Lynnhaven 18 with IMAX | Virginia Beach | VA |
| AMC Pacific Place 11 | Seattle | WA |
What Else Is Happening