Battle 4 Greatness at SXSW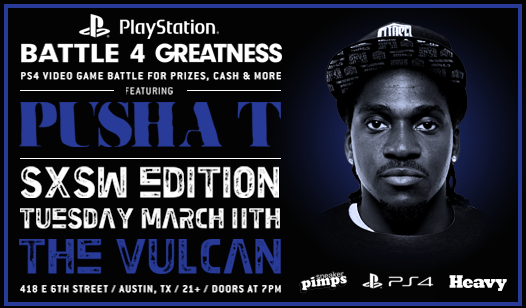 PlayStation's heading to South by Southwest this year in Austin, Texas! Join us on March 11th at The Vulcan for our PlayStation® Battle 4 Greatness event, where you can get hands-on with unreleased PS4™ games and compete for prizes, cash and more. Play to the tune of live music all night, with special performances by Pusha T. Featured games include:
Check below for event details. Be sure to follow @HeyPlayStation on Twitter and RSVP on Facebook for any additional info and updates!
Where: 418 6th Street, Austin, TX
When: 7:00pm - Midnight, March 11th
Tournament Registration: 7:00pm - 7:45pm (first 64 entries only)
Tournament Game: TowerFall Ascension (Free for All Headhunter mode, first to 5)
Prize: A PlayStation®4 System and $1,000 in cash

What Else Is Happening