Apocalypse - The Last of Us™ Tournament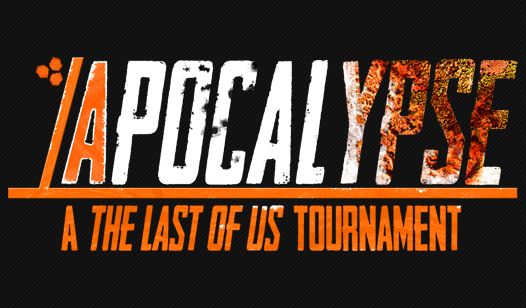 Welcome to Apocalypse; the first official The Last of Us™ tournament ever. Over the course of 5 weeks, 32 teams will compete to be crowned champions in fierce 4v4 play.
Hosted on Challonge. Organized by tripleWRECK.
TO ENTER:
Simply sign up on the tournament page on Challonge with a team of 4 or more. FIRST COME, FIRST SERVE!
Link to tournament page below.
GENERAL RULES:
Best of 3 Format
Interrogation and Supply Raid modes
Teams will have 3 days each week to complete matches (Friday-Sunday)
No Molotovs
No Purchasables
Full rules on tournament page.
Staff available to handle any questions or issues you may have.
Sony Computer Entertainment America LLC and Naughty Dog Inc. are not Sponsors of nor are responsible for this promotion.
What You Could Win:
What Else Is Happening